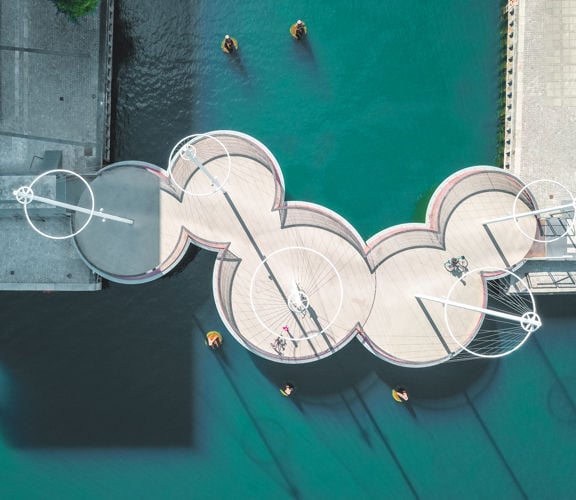 This accessibility statement applies to the Sampo.com website.
Compliance status
The Sampo.com website is partially compliant with the Web Content Accessibility Guidelines version 2.1 AA standard, due to the non-compliances and the exemptions listed below. The site will be further developed to improve the accessibility.
Non-accessible content
The content listed below is non-accessible for the following reason(s):
Non-compliance with the Act on the provision of digital services 306/2019
Visuals
Visible focus: In some elements, the custom keyboard focus indicator is not visible or does not meet the contrast requirements. (WCAG 2.4.7, 1.4.11)
Contrasts: The contrasts of some texts and the graphic elements do not meet the criteria. (WCAG 1.4.3, 1.4.11)
Use of colour: In some charts and graphs only colour is used to distinguish visual elements from each other. (WCAG 1.4.1)
Images of text: Some images contain practically only text and no text alternatives have been defined. (WCAG 1.1.1, 1.4.5)
Structure
Tables: The column and row headings in HTML tables are not marked programmatically. In addition, some tables are presented only as an image and some tables are not programmatically tables. (WCAG 1.3.1, 1.3.2)
Text alternatives: All the visual elements, images and graphs of the website do not have proper text alternatives. (WCAG 1.1.1, 2.4.4, 2.5.3)
Headings: Not all headings are marked as HTML heading levels and there are some empty heading markings on the website. (WCAG 1.3.1)
Lists and visually grouped content: There are lists and visually grouped content, such as link lists, whose structure is not communicated programmatically. (WCAG 1.3.1)
Language definition: Some text content, such as the names of the different reports, has incorrect language definitions. (WCAG 3.1.2)
Quality of the HTML code: There are some HTML errors such as double id attributes and nesting issues. (WCAG 4.1.1)
Navigation
Single-page application: The website is a single-page application where screen readers do not detect and announce content changes and keyboard focus remains on the last focused element. (WCAG 2.4.3, 4.1.3)
Keyboard Navigation: All functionality of the content is not operable through a keyboard interface. (WCAG 2.1.1, 2.1.2)
Link information: Links that open an attachment do not always specify the file format. (WCAG 2.4.4)
Landmarks: Some visually marked entities are not marked programmatically. (WCAG 1.3.1)
Form elements
Form elements: Not all form fields have labels or visible labels are not programmatically associated with the fields. (WCAG 1.3.1, 3.3.2).
Error messages: Error messages are not marked so that their content is automatically read without moving keyboard focus. In addition, error messages are not programmatically associated with form fields. (WCAG 3.3.1, 4.1.3)
Form groups: Not all form groups are programmatically marked as groups. (WCAG 1.3.1)
Input purpose: The purpose of each input field collecting information about the user is not programmatically determined. (WCAG 1.3.5)
Element specific findings
Iframe elements: Numerous iframe elements contain third-party content that has several accessibility issues: not all elements can be accessed with the keyboard, charts and graphics are not readable with screen readers, text that appears on mouse hover cannot be closed without moving the pointer, most interface elements are customised and lack names, states, roles, and necessary event handlers, language is not defined, text alternatives have issues, not all tables are programmatically marked up as tables, and there are issues with reading order of some tables, not all labels are programmatically associated with form controls, and there are some issues with contrast between text and backgrounds. (WCAG 1.1.1, 1.3.1, 1.3.2, 1.4.3, 1.4.13, 2.1.1, 2.4.7, 3.1.1, 4.1.2, 4.1.3)
Scrollable tables: Some custom scrollable tables are missing the necessary roles for screen readers to understand the structure of rows, row and column headers, and cells. (WCAG 1.3.1, 1.3.2, 2.4.4, 4.1.2)
Main menu: The main menu implemented as a fly-out menu is located at the end of the page in the tabbing order. The nested list structure of the fly-out menu levels has some issues, and there is no feedback provided to screen reader users when expanding the fly-out menu levels. The button that expands the collapsed fly-out menu level cannot be used with the keyboard. The current location of the user in the menu is not programmatically highlighted, and the fly-out menu levels cannot be closed with the keyboard. (WCAG 1.1.1, 1.3.2, 2.1.1, 2.4.3, 4.1.2)
Mobile menu: The mobile menu is located at the end of the page in the tabbing order, the state of the menu button (open / closed) is not communicated programmatically, the menu is not immediately after the menu button in the tabbing and reading order, when the menu is open the keyboard focus may escape to the underlying page, the keyboard focus is not programmatically moved when moving to a new view, the third-level arrows of the menu have a keyboard trap, list item structure is not programmatically determined in the menu. (WCAG 1.3.1, 1.3.2, 2.1.2, 2.4.3, 2.4.7, 4.1.2, 4.1.3)
Tabs: Some tab implementations are presented as regular links, which do not convey their purpose and state to screen reader users. In addition, there are some errors in the tabs that affect logical keyboard usage. (WCAG 4.1.1, 4.1.2)
Content selection elements: On several different pages, the content selection element functions as a dropdown menu, but it is not programmatically a dropdown menu. The element is presented as a regular link and it lacks the necessary roles and states. (WCAG 1.3.1, 4.1.2)
Search: The search field is a customised combobox element that lacks the necessary accessible name, state, and role. In addition, there is no feedback provided for screen reader users when performing a search or clearing the search field. (WCAG 4.1.2, 4.1.3)
Glossary: The anchor links on the glossary page are implemented as buttons and keyboard focus remains on them after pressing. The glossary button is a toggle button whose state is not conveyed programmatically. It is not possible to navigate to highlighted words using the keyboard. (WCAG 1.3.1, 2.1.1, 2.4.1, 4.1.2)
Audio and video
Video accessibility: The website contains videos without captions. Additionally, there are links on the website that lead to a separate video service for Sampo, and these videos have deficiencies in captioning and audio description. (WCAG 1.2.1, 1.2.2, 1.2.3, 1.2.5)
PDF files
PDF files: The PDF files of the website have numerous accessibility issues. Some of the documents lack tags, bookmarks are missing, images and charts do not have text alternatives and are not presented in an alternative accessible format, headings are not marked up with heading styles, tables are not marked up with table elements or their header cells are not defined correctly, reading order is not defined or has some deficiencies, language of the document is not specified, document titles are not set to display, decorative images are not programmatically marked as such, some contrasts between text and background are insufficient, and in some charts, colour is the only way to distinguish data from each other. (WCAG 1.1.1, 1.3.1, 1.4.1, 1.4.3, 1.4.5, 2.1.1, 2.4.1, 2.4.2, 2.4.5, 2.4.6, 3.1.1)
Preparation of this accessibility statement
This statement was prepared on 12 April 2023.
The method used to prepare the statement is an actual evaluation of the website's compliance with the requirements of Directive (EU) 2016/2102, carried out by a third party, Eficode Oy.
Feedback and contact information
If you notice any accessibility issues on the website, please send feedback to us, i.e. the site administrator, Sampo plc's Group Communications, by e-mail: info@sampo.fi. It may take us up to 14 days to reply.